The best prices for renting a roll-off dumpster in Youngstown, OH for construction or residential use.
Your Questions About Dumpster Rentals Are Answered
How big do you want?
What does it cost?
Need to get a permit?
How about reusing things?
We've put together this Guide to Renting a Dumpster to help answer any questions you may have about renting a container:
How to Choose the Right Size Dumpster for Your Project
How Much It Costs to Rent a Dumpster in Youngstown
How do you know when you need a dumpster permit and when you don't?
Anyone can find it hard to get rid of a lot of trash, waste, or garbage. No matter if it's for a home or a business, you'll need a reasonable and quick way to get rid of the trash. You can help solve this problem by renting a dumpster. Getting a dumpster is pretty easy because you can just put all your trash in it, put it in a certain spot, and all your trash will be taken away for you. You can talk to our technical staff, who will be happy to help you. Most of the time, though, you no longer need a permit, and we'll talk more about that later in this article. Also, if you rent a dumpster, you'll have a place to put your trash during your business or home project, and you can have the debris picked up with the dumpster.
>The Dumpster Rental Guys rents out containers for industrial, manufacturing, construction, and residential uses. We are more than able to help you rent containers in the Youngstown area. We'll be happy to walk you through the process and answer any questions you have about it.
What Dumpster Size Should I Get?
10 Yard Dumpster
About four pick-up trucks' worth of trash can fit in a 10 yard roll-off container. They are often used for small projects like remodeling a bathroom or kitchen, cleaning out a garage or basement, replacing a small roof up to 1500 square feet, or taking down a small deck up to 500 square feet.
20 Yard Dumpster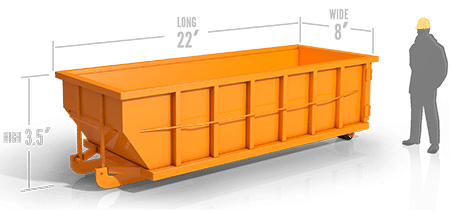 About eight pick-up trucks' worth of trash can fit in a 20-yard roll-off container. They are often used to remove carpet or flooring from a large house, clean out a large garage or basement, replace a roof up to 3000 square feet, or take down a deck up to 400 square feet.
30 Yard Dumpster
About 12 pick-up trucks' worth of trash can fit in a 30 yard roll-off container. They are often used for big home additions, building a new house, tearing down a garage, replacing siding or windows on a small to medium-sized house, and so on.
40 Yard Dumpster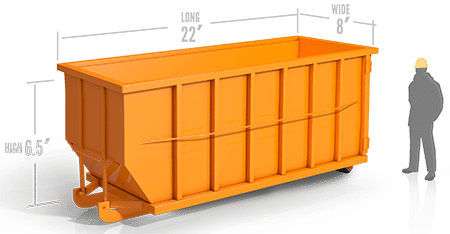 About 16 pick-up trucks' worth of trash can fit in a 40-yard roll-off container. They are often used for big projects like building or remodeling a big house, cleaning out a business, or replacing the siding or windows on a big house.
All dumpster sizes are measured in cubic yards, and different sizes are available. Most dumpsters are 10 cubic yards, 20 cubic yards, 30 cubic yards, or 40 cubic yards. Dumpsters can be very helpful for people who are putting on events, cleaning out their homes, or working on projects that will make a lot of trash.
How do you figure out what size your project should be? So, here's an easy guide:
Dumpsters that are 10 to 15 cubic yards: This size dumpster is perfect for some home projects, like a general clean up, a small kitchen remodel, or a do-it-yourself home improvement project.
Customer Reviews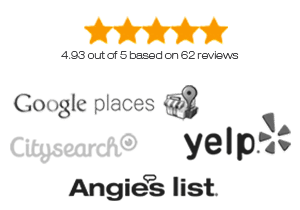 Medium 20-Cubic Yard Dumpsters: These dumpsters, which are in the middle size range, are very useful when remodeling the house or cleaning up the whole house. Most people who are thinking about remodeling a room or cleaning their house thoroughly choose this type of dumpster.
Large 30- to 40-cubic-yard dumpsters are the big dogs of the rental container world. They are common in places where buildings are about to be completely torn down or built.
Just give us a call. We may have to tell you to get a smaller container if the path to your house is too narrow or if your driveway or yard is too small for a bigger one. Before you can come to any conclusions, you need to figure out what your project needs. What kind of trash are you getting rid of? After you tell us everything we need to know, like how big your property is and how long the path to your house is, we can give you a more accurate quote.
Contact our technical team and we'll help you figure out what size you need for your project. If you choose a dumpster that is too big, you will waste money, but if you choose one that is too small, you might not have enough room for all the trash and debris you need to get rid of. Choosing dumpster sizes is not an exact science, but experience can help. Large dumpsters are expensive, so don't rent more than you need.