The Lowest Costs for Rolloff Dumpster Rentals in Winslow, NJ for Construction and Residential Waste Containers.
Which Dumpster Size Do I Need For My Project?
10 Yard Dumpster
Roll-off containers of 10 cubic yards may accommodate nearly four pickup trucks worth of debris. Typical applications include modest bathroom or kitchen renovations, garage or basement cleanouts, small roof replacements up to 1,500 square feet, and minor deck removals up to 500 square feet.
20 Yard Dumpster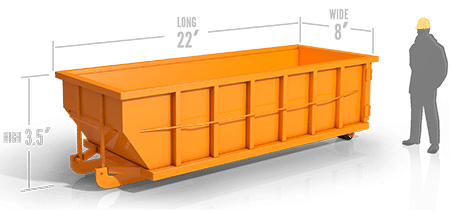 20 yard containers can carry roughly eight pickup truck loads of waste. Typical applications include carpet or flooring removal for a large house, garage or basement cleanouts, roof replacements up to 3000 square feet, and deck removals up to 400 square feet.
30 Yard Dumpster
30 yard containers can carry roughly 12 pickup loads worth of waste. Large home extensions, new home building, garage demolition, siding or window replacements for a modest to medium-sized house are common applications.
40 Yard Dumpster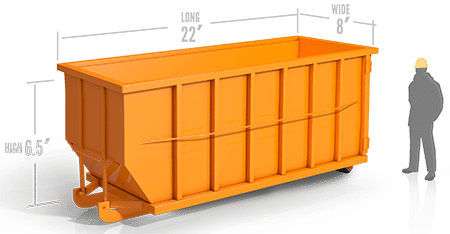 40 yard containers can carry roughly 16 pickup trucks worth of waste. They are frequently employed for projects such as significant house renovations or construction, business clean outs, and siding or window replacement for a large residence.
The size of the project is a determining factor when renting a roll-off container. The size of the container must be just perfect for the amount of waste you anticipate; renting a container much larger than what you actually need will cost you extra money. Upon obtaining basic information regarding the type of garbage you're attempting to dispose of, our experienced and knowledgeable team may propose not just the appropriate dumpster size, but also the appropriate dumpster type for your specific needs.
In addition to 10-, 20-, 30-, and 40-cubic-yard containers, dumpsters also come in sizes in between. Some of them are categorized as heavy-duty to accommodate the additional weight, especially if the waste includes concrete, soil, and drywall. Consider the following load requirements typical of most home renovation projects to help you determine which dumpster size to rent.
One-Room Remodeling or Demolition: The 10-cubic or 20-cubic yard container would be ideal for jobs of this nature. They range in length from 16 to 22 feet, width from more than seven feet, and height from three to four feet.
Multiple-Room Remodeling and Demolition: A multiple-room renovation or demolition will necessitate at least a 30-cubic yard dumpster. Essentially, when dealing with a greater amount of waste, you should choose for a larger dumpster.
General Cleanup and Garage Remodeling: If you will discover primarily garbage in your attic, garage, or basement, you do not want a dumpster larger than 15 cubic yards. Nonetheless, if there are large appliances to dispose of as well, consider renting a 20-cubic-yard dumpster.
The dimensions of a 20-cubic-yard dumpster, which are around 22 feet long, more than seven feet wide, and more than four feet tall, are adequate for storing furniture. This should be sufficient for storing all of your household rubbish. Obviously, a larger dumpster will be safer if you anticipate the amount of rubbish to be around 9 truckloads.
Landscaping:
Development and Destruction: Feel free to refer to this information, but once you are ready to begin the process, please contact us so we can assist you in selecting the most suitable dumpster. The information provided above merely provides a broad notion of the dimensions and purposes of the item. Customers tend to overestimate the amount of waste they have on their property and, as a result, spend more than they should. Please dial our number.
How Much Should Renting a Dumpster Cost?
As previously said, each household has a unique set of needs. This is why we cannot provide a broad estimate of how much it would cost to rent a dumpster.
Consider the following dumpster kinds that can affect dumpster prices:
construction sites undergoing renovation
Roofing construction
landscape projects
home cleanups
any type of debris removal
Consider the following common dumpster uses that can also effect the price:
roof and shingles
dirt and yard waste
construction rubbish
concrete
garbage
Customer Reviews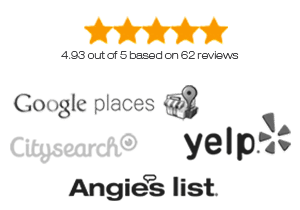 Consequently, we will not be able to provide you with a precise quote for the cost of renting a dumpster unless we are aware of the scope and objective of your project. Dial our number and let's discuss the topic further.
Do I need a permit for dumpster rental service?
Despite the fact that not everyone will be required to obtain a permit for a roll off rental business, it is essential that you have all the necessary paperwork in order, particularly if a significant restoration project is involved.
It may not be essential to obtain a permit in order to rent a roll-off container, but it is prudent to have the necessary paperwork on hand just in case. Typically, a permission is required if the dumpster must be positioned outside of your property, such as on a residential street.
If the dumpster will be placed on the street or sidewalk, you will almost certainly require a permission. It should also be noted that merely applying for a permit does not guarantee acceptance, especially if the dumpster you intend to rent will block a substantial portion of the street and impede traffic.
You might attempt to fit the dumpster within the constraints of your property so that you do not have to bother with acquiring a permit. However, it is better to be safe than sorry, so make sure to contact your local Winslow municipal office for a list of what is and is not required. This is because you are already impeding vehicular and pedestrian traffic. In fact, you imperil pedestrians on busy highways by forcing them to walk on the street when you position a dumpster on the sidewalk.
After acquiring the necessary expertise, you must be prepared to hire a roll-off container. Call our number right away if you have any questions regarding the rental procedure or rates.