Best Prices on Rolloff Dumpster Rentals in Waldorf, MD for Construction and Residential Waste Containers.
What Size Waste Container Should I Rent?
10 Yard Dumpster
Roll-off containers of 10 cubic yards may accommodate nearly four pickup trucks worth of debris. Typical applications include modest bathroom or kitchen renovations, garage or basement cleanouts, small roof replacements up to 1,500 square feet, and minor deck removals up to 500 square feet.
20 Yard Dumpster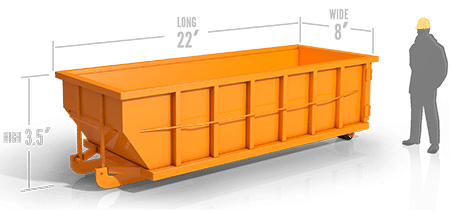 20 yard containers can carry roughly eight pickup truck loads of waste. Typical applications include carpet or flooring removal for a large house, garage or basement cleanouts, roof replacements up to 3000 square feet, and deck removals up to 400 square feet.
30 Yard Dumpster
30 yard containers can carry roughly 12 pickup loads worth of waste. Large home extensions, new home building, garage demolition, siding or window replacements for a modest to medium-sized house are common applications.
40 Yard Dumpster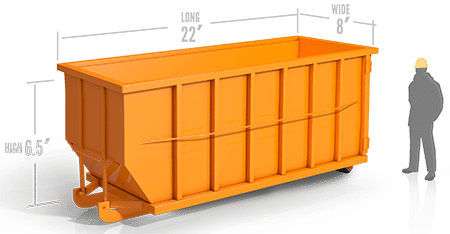 40 yard containers can carry roughly 16 pickup trucks worth of waste. They are frequently employed for projects such as significant house renovations or construction, business clean outs, and siding or window replacement for a large residence.
Whether you are a contractor or a homeowner, and whether your job is huge or small, The Dumpster Rental Guys can provide you with the ideal dumpster container. A roll off rental may be the solution for removing and storing big volumes of rubbish, whether for a major building project or a minor domestic cleanout. Nevertheless, this will depend on the contents of the container.
Contact us if you have any questions about our dumpster rental services. Let us assist you in selecting the dumpster rental that best meets your needs.
10 Cubic Yard Dumpster: This tiny dumpster has the capacity to carry 10 cubic yards of debris. It can accommodate up to two tons of waste.
20 Cubic Yard Dumpster: The 20 cubic yard dumpster is a roll-off container of medium size that is ideal for kitchen or bathroom renovation garbage. Appropriate for complete attic and basement cleanouts.
30-40 Cubic Yard Dumpster: The largest containers we offer on the property, the 30-40 cubic yard dumpsters, are the safest bet for larger projects, such as demolition or building jobs and roofing replacement projects. These dimensions are frequently sought by office building owners during renovations.
How much do you charge to rent a dumpster?
Normally, a roll-off container from The Dumpster Rental Guys is not accompanied by excessive trash dumpster fees. We never overcharge for roll-off dumpster rentals. Standard rates in Waldorf apply, taking the size of the dumpster and the nature of the job into account. We value your investment, so we will only recommend the most suitable dumpster for your requirements. Our economical rate includes pick-up, a set weight limit, landfill fees, and delivery.
Additional fees may apply if you load an excessive amount of trash into the dumpster or if you include a mixture of heavy and light materials. Utilize our straightforward method to locate a dumpster with the appropriate weight, volume, and weight capacity for your particular type of trash. The dumpster's purpose is determined by the materials used to construct the container. The following debris can affect pricing:
construction sites undergoing renovation
Roofing construction
landscape projects
home cleanups
any type of debris removal
One aspect that can effect dumpster pricing is the scope of the project. All dumpsters must be returned within the ten-day rental term. Among the projects that can affect dumpster prices are:
roof and shingles
dirt and yard waste
construction rubbish
concrete
garbage
Customer Reviews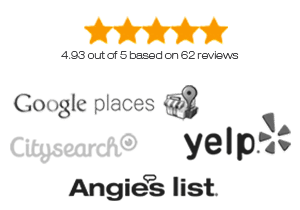 The Dumpster Rental Guys is honored to serve you and values your business. Call us today to learn more, and one of our customer service professionals will assist you in finding the most cost-effective size for your job.
Would I Need a Permit to Rent a Dumpster?
State-by-state regulations surrounding dumpster rentals may vary. Ask them directly if a permit is required for renting a roll-off container.
There are constraints associated with obtaining a permit, such as the fact that you cannot simply set the dumpster wherever you like without fear of being penalized.
You may be penalized if you install your dumpster container on the sidewalk or roadway without a permit. If you can safely store the container on your own land, then a permit is not required. Nonetheless, be careful to clarify this information with your local office in order to be prepared with the necessary documentation when the need for a dumpster rental arises.
Choose The Trash Rental Guys for all your dumpster rental requirements in Waldorf. Call us immediately if you need to hire a dumpster or if you need help determining the appropriate trash size for your ongoing job. Call us to learn more about our dumpster rental services. Call us and let us discuss more about dumpsters for hire.