What Dumpster Size Do You Need?
Here are the four most popular dumpster sizes used in Valencia, as well as some common tasks for each. If you still have questions, please phone us and we will gladly answer them.
10 Yard Dumpster
Roll-off containers of 10 cubic yards may accommodate nearly four pickup trucks worth of debris. Typical applications include modest bathroom or kitchen renovations, garage or basement cleanouts, small roof replacements up to 1,500 square feet, and minor deck removals up to 500 square feet.
20 Yard Dumpster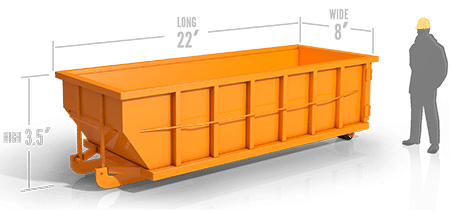 20 yard containers can carry roughly eight pickup truck loads of waste. Typical applications include carpet or flooring removal for a large house, garage or basement cleanouts, roof replacements up to 3000 square feet, and deck removals up to 400 square feet.
30 Yard Dumpster
30 yard containers can carry roughly 12 pickup loads worth of waste. Large home extensions, new home building, garage demolition, siding or window replacements for a modest to medium-sized house are common applications.
40 Yard Dumpster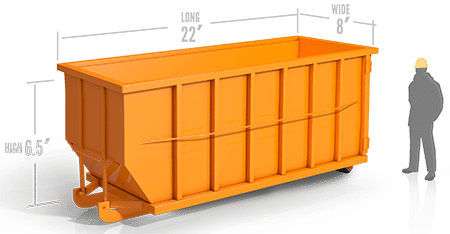 40 yard containers can carry roughly 16 pickup trucks worth of waste. They are frequently employed for projects such as significant house renovations or construction, business clean outs, and siding or window replacement for a large residence.
How Much Does it Cost to Rent a Roll-Off Container in Valencia?
The actual dumpster rental prices in Valencia depend on a number of variables, including container size, debris type, debris weight, rental duration, and landfill fees in your county. However, you can normally expect the price to range from $300 and $750. Give us a call for an exact all-inclusive price quote.
Here Are Some Tips to Make Renting a Dumpster Slightly Easier
Renting a dumpster is an effective way to manage a significant mess, whether you're renovating or cleaning a business or house. If you intend to hire a roll-off container, you may be uncertain about the best course of action. In actuality, there are a few rental recommendations you should be aware of.
Before you reserve a roll-off container in Valencia, check the local ordinances to determine if a permission is required. There may be further guidelines from Valencia about the placement of the dumpster while it is on your property.
Avoid throwing away goods that are prohibited by the container rental company or the landfill where the trash will be dumped. For example, most landfills prohibit the disposal of the following things due to rental provider requirements or local, state, and even federal regulations:
Paints, thinners, solvents, and varnishes.
Chemical disinfectants and household products.
Batteries.
Fuels.
Resins and adhesives.
If you feel that a chemical may be harmful, flammable, or toxic, you should consult with your rental company before placing it in the container, just to be safe.
Best Methods for Determining the Ideal Roll-Off Container Size
If you are contemplating renting a roll-off container for your project but are unsure what size container will best suit your needs, we have produced a comprehensive guide. This can help you determine which roll-off container sizes are typically required for various types of projects, which should make it easier to determine what size you may need.
10-yard – is ideal for little projects such as remodeling a bathroom or kitchen. This size is unlikely to be useful for removing carpet or refurbishing a large home, as it is square rather than rectangular like larger possibilities.
20-yard - You should begin with a 20-yard dumpster if you need to dispose of large lengths of pipe, carpet, or hardwood, or even long windows. The rectangular shape of these storage containers allows you to store longer items without having to worry about sharp protrusions that could pose a safety risk.
30-yard – is perfect for large-scale renovation projects. This size is commonly used for garage demolition projects. Of addition to new home building, it can also be utilized to replace the windows in a small to medium-sized home.
40-yard – is the largest container size and is ideal for major industrial projects such as roof removal, large house construction or renovation, and the demolition of a small home or structure.
Customer Reviews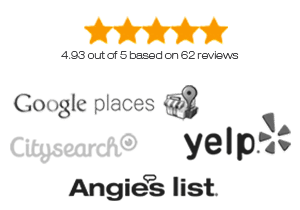 No matter what you are attempting to do, we are guaranteed to have the resources you require; simply contact us for assistance. We would gladly assist you in selecting the proper roll off container size for your situation.
How dumpster costs in Valencia are Determined
Homeowners, building companies, and businesses should be aware of the elements influencing the pricing of roll-off dumpsters in California. As rental costs vary from individual to person. Here are some of the variables that will be considered when determining your price quotes:
Types of Waste
There are various forms of trash that must be discarded. Houses generate different types of garbage than construction enterprises and manufacturing businesses. Typically, homeowners spend significantly less than construction businesses. If the waste materials are big and bulky, the garbage disposal company will likely charge higher prices. Most companies also offer discounted rental rates for renters that recycle. This is because recycling companies often charge less for waste disposal than landfills.
Dumpster Size
Clearly, larger containers hold more waste material, so they will cost more to acquire. On the other hand, smaller containers are somewhat less expensive to rent because they are easier to transport to the landfill.
Landfill Charges
Some landfills charge more than others for the disposal of comparable garbage. In general, these rates vary from state to state and even city to city. Depending on the rates charged by the landfill closest to your city, your expenses may be more or cheaper.
Distance from the dump
Typically, the renter is responsible for the service provider's transportation expenses. Generally, renters who reside further from landfills or recycling transfer facilities pay more than those who reside closer.
There may be others, but these are the four most significant factors influencing costs.