The Lowest Cost for Rolloff Dumpster Rentals in Tarpon Springs, Florida Construction Dumpsters and Residential Dumpsters
Your Dumpster Rental Inquiries Resolved
Which size do you require?
What will the cost be?
Do you need a license?
What regarding recycling?
facilitating the rental of dumpsters in the Tampa area. Our drivers are all safety-certified, knowledgeable, and licensed. Our dumpster containers are ideally placed and emptied in accordance with the requirements of your project and property. Do you need to clean a facility or dispose of a large amount of trash at once? Large-scale yard tasks and house renovations are just a few of the situations in which a container rental may be necessary. We offer quick container rental options for all of your trash removal requirements.
Dumpsters come in a variety of shapes and sizes. Before having one roll onto your property in the Tarpon Springs region, you must be aware of its carrying capacity. Our prices are the most straightforward and affordable in the Tarpon Springs area. The key to selecting the dumpster container that best meets the needs of your project is to accurately estimate the amount of trash you will be disposing of. Feel free to call us or send us an email so we can review your ongoing project and make recommendations!
To help address any questions you may have about renting a container, we've compiled our Guide to Renting a Dumpster; we hope you find it useful:
Determining The Appropriate Dumpster Size For Your Project
Understanding Tarpon Springs Dumpster Rental Costs
When is a Dumpster Permit Required and When Is It Not?
Which Dumpster Size Is Appropriate For My Project?
10 Yard Dumpster
Roll-off containers of 10 cubic yards may accommodate nearly four pickup trucks worth of debris. Typical applications include modest bathroom or kitchen renovations, garage or basement cleanouts, small roof replacements up to 1,500 square feet, and minor deck removals up to 500 square feet.
20 Yard Dumpster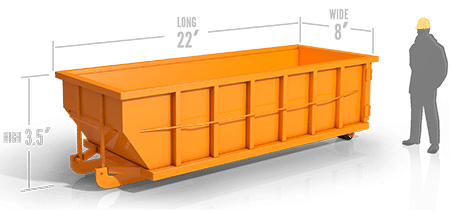 20 yard containers can carry roughly eight pickup truck loads of waste. Typical applications include carpet or flooring removal for a large house, garage or basement cleanouts, roof replacements up to 3000 square feet, and deck removals up to 400 square feet.
30 Yard Dumpster
30 yard containers can carry roughly 12 pickup loads worth of waste. Large home extensions, new home building, garage demolition, siding or window replacements for a modest to medium-sized house are common applications.
40 Yard Dumpster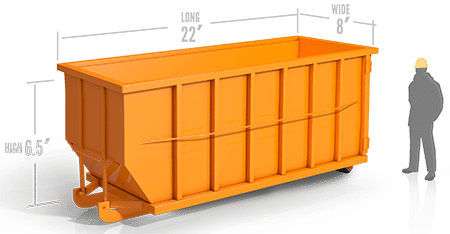 40 yard roll-off containers for construction can accommodate around 16 pickup loads worth of debris. They are frequently employed for projects such as significant house renovations or construction, business clean outs, and siding or window replacement for a large residence.
This will not only save you a great deal of time, but it will also make your trash removal task reasonable. Some homeowners completely fill the container. However, the law prohibits us from removing it if the trash is already overflowing. It is essential to determine the height of the container to limit the amount of effort required to hoist heavy objects over the side. The majority of container rental businesses measure their containers in yards. If this occurs, you will need to get a second dumpster, and when you compute the cost, you will find you could have saved a significant amount of money by renting a dumpster of the appropriate size. Renting a dumpster can allow you to dispose of rubbish from a large or little project in a timely manner and with less effort.
You may select a 10-cubic yard, 15-cubic yard, or 40-cubic yard container. It is equally crucial not to overestimate your trash as it is not to underestimate it. They are listed below: 4 and 6-yard dumpsters (for minor jobs), 9, 10 and 12-yard dumpsters (for medium jobs), and 14 and 20-yard dumpsters (for large jobs) (large projects). Choose the proper size for your project to avoid complications later on. Consider the nature of the project and the materials that will be placed in the dumpster before deciding on a size.
Call us to ensure you have the proper dumpster. Renting a dumpster is a simple and affordable solution for all your trash removal needs. Clearly, if you are merely disposing of leaves, paper waste, or pieces of broken furniture, the standard class roll-off container will suffice. However, if we're already talking about loading soil, concrete, boulders, and bricks, you'll need our top-of-the-line heavy duty dumpsters, which are specifically intended to transport big goods. These are some rough guidelines to assist you in determining the suitable dumpster size for your job. Give us a call if you have questions about your particular needs.
How Much Do Dumpster Rentals Cost?
You may not believe it, but the dumpster's price is within your budget. There is, for example, the dumpster's dimensions to consider. The location is also a crucial factor. The size will affect not only the cost of renting a roll-off container, but also the type of dumpster you rent, including:
construction sites undergoing renovation
Roofing construction
landscape projects
home cleanups
any type of debris removal
Continue reading to learn about the various price tags:
roof and shingles
dirt and yard waste
construction rubbish
concrete
garbage
Customer Reviews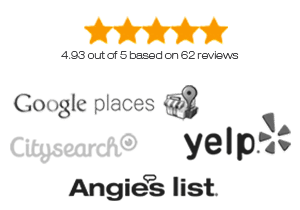 Instead, contact our number so we can provide you with an accurate, personalized estimate. This is to ensure that no one faces sanctions, including ourselves. This is why we only provide price quotes after speaking with prospective consumers. The payout will depend on the quantity and type of waste dumped to the landfill.
Why Must You Obtain a Permit at Tarpon Springs
A huge project such as a major renovation, building, or demolition operation may necessitate a dumpster that you may not be allowed to place on your own driveway, so let's examine the circumstances in which a permit is required. If the container rental is put on city property, a permit is required. You may believe that renting a dumpster is a simple operation, and for the most part, it is, particularly if you keep the container within the bounds of your property, where it will not disturb anyone but your family. Before you can park a dumpster in a public area, there are regulatory procedures and paperwork to complete.
Now, if the dumpster will be placed on the street, you must seek direction from the Tarpon Springs building permission office or the municipal transport agency. If you do not obtain one, you may be subject to violations resulting in further fines, which you cannot afford right now. If you are able to fit the dumpster on your driveway, you probably do not need a permit for this project. You must obtain a permission if you want to place the container in the street where it will block traffic. Some states actually enable placing a dumpster on the street without a permit if the dumpster takes up only a small portion of the road, traffic is not hindered, pedestrians are not endangered, and the dumpster is removed within two days. However, the best course of action is to contact your local council to determine for yourself if you are required to file the relevant paperwork.
Call our hotline if you require further explanation. We hope that your queries about hiring a roll-off container have been answered.