The Best Prices for Renting a Rolloff Dumpster in Laredo, TX for Construction or Residential Dumpsters
What Size Dumpster Should I Get?
10 Yard Dumpster
About four pick-up trucks' worth of trash can fit in a 10 yard roll-off container. They are often used for small projects like remodeling a bathroom or kitchen, cleaning out a garage or basement, replacing a small roof up to 1500 square feet, or taking down a small deck up to 500 square feet.
20 Yard Dumpster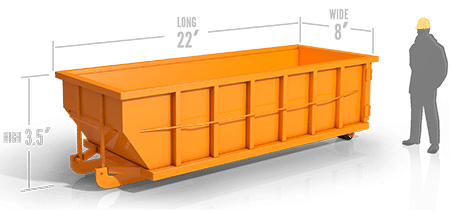 About eight pick-up trucks' worth of trash can fit in a 20-yard roll-off container. They are often used to remove carpet or flooring from a large house, clean out a large garage or basement, replace a roof up to 3000 square feet, or take down a deck up to 400 square feet.
30 Yard Dumpster
About 12 pick-up trucks' worth of trash can fit in a 30 yard roll-off container. They are often used for big home additions, building a new house, tearing down a garage, replacing siding or windows on a small to medium-sized house, and so on.
40 Yard Dumpster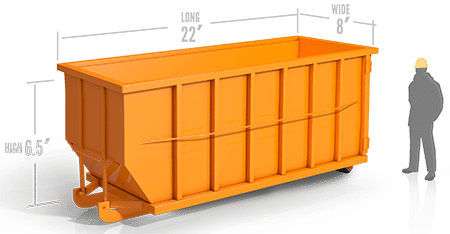 About 16 pick-up trucks' worth of trash can fit in a 40-yard roll-off container. They are often used for big projects like building or remodeling a big house, cleaning out a business, or replacing the siding or windows on a big house.
If you decide that a roll-off dumpster is necessary for the home or business project you are working on, choosing the right size of dumpster could be one of the most important steps. Dumpster bins come in different sizes so they can be used for a wide range of projects, both at home and in business.
Customer Reviews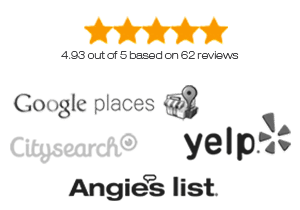 At The Dumpster Rental Guys, you can rent roll off containers in sizes of 10, 20, 30, and 40 yards. The information above will help you choose the right dumpsters to rent. Here's some more information that will help you decide which dumpsters to rent.
Cleaning and remodeling small rooms: Dumpsters with 10-15 cubic yards
If all you're doing is cleaning out your bedroom, garage, or basement, you only need the smallest dumpster. This size dumpster is perfect for cleaning up small amounts of trash at home.
Full-floor cleaning and removal of flooring: 20-cubic-yard dumpsters
20-yard dumpsters work for small to medium-sized jobs. Size: A typical size is 23 feet long, 8 feet wide, and 4 feet high.
Major home additions and office clean-outs: 30 to 40 Cubic Yard Dumpsters
Roll-off dumpsters with 30 or 40 yards are made for use in businesses and factories. They are great for building projects, commercial renovations, home renovations, or cleaning up around the house.
Call us right away and we'll help you find the right size dumpster.
How much should I expect to pay to rent a dumpster?
Customers need to know how much it costs to rent a container before they hire one for their waste management needs in Laredo or the city of Minneapolis. The cost of renting a container also depends on how heavy the trash is and what shapes it has. Large pieces of concrete that take up the same amount of space as smaller pieces of trash will cost more to move because they are so heavy. Large pieces of concrete and other heavy trash will take longer to load and unload. Don't forget that when you rent a dumpster, you have to pay even for the space you don't use.
If you hire a contractor to help you remodel your home, you can ask him how much trash your project will make and what size dumpster you'll need to haul it away. If you work with a construction company, they can tell you how much trash is likely to be made.
Types of Commercial and Residential Projects
Dumpsters for Certain Materials
Shingles
dirt removal
Dirt
concrete
Customer Reviews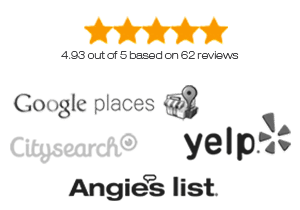 It would be smart to call our representative at The Dumpster Rental Guys right now to find out how much a dumpster costs. Not only do you have to pay rental fees, but you also have to pay county or city landfill fees and get permits. We can tell you about our dumpster prices and give you an idea of how much your whole bill will be. Call us to find out more about the cost of dumpsters and other related things.
Should I get a permit before renting a dumpster?
if you already know about The Dumpster Rental Guys's container rental service. Get in touch with the county office to find out if you need a permit for your dumpster.
If you're okay with having the dumpster put in your driveway or yard, you don't actually need a permit. Most of the time, if the dumpster is on private property, you won't need a permit.
If you don't have enough room on your property for a dumpster, you might have to put it on the street near your house. In this case, since a street is public property, you will need to get a permit first. Before you start the renting process, you should clear all of this up.
Call The Dumpster Rental Guys if you need to rent a roll-off container in Laredo. We can rent you containers that will work for any project, big or small.