How big of a trash bin do you need?
Here are the 4 most common dumpster sizes in Hyattsville, along with some of the most common projects that call for each one. Check it out, and if you still have questions, you can call us and we'll be happy to answer them.
10 Yard Dumpster
About four pick-up trucks' worth of trash can fit in a 10 yard roll-off container. They are often used for small projects like remodeling a bathroom or kitchen, cleaning out a garage or basement, replacing a small roof up to 1500 square feet, or taking down a small deck up to 500 square feet.
20 Yard Dumpster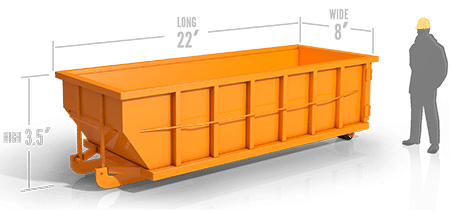 About eight pick-up trucks' worth of trash can fit in a 20-yard roll-off container. They are often used to remove carpet or flooring from a large house, clean out a large garage or basement, replace a roof up to 3000 square feet, or take down a deck up to 400 square feet.
30 Yard Dumpster
About 12 pick-up trucks' worth of trash can fit in a 30 yard roll-off container. They are often used for big home additions, building a new house, tearing down a garage, replacing siding or windows on a small to medium-sized house, and so on.
40 Yard Dumpster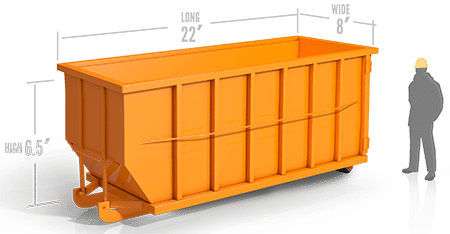 About 16 pick-up trucks' worth of trash can fit in a 40-yard roll-off container. They are often used for big projects like building or remodeling a big house, cleaning out a business, or replacing the siding or windows on a big house.
How much does it cost to rent a roll-off dumpster in Hyattsville?
There are a number of things that affect how much it costs to rent a dumpster in Hyattsville, such as the size of the dumpster, the type of trash, the weight of the trash, how long you rent it for, and how much your county charges for landfill fees. Most of the time, though, the price will be between $300 and $750. Give us a call if you want to know the exact price for everything.
Information on how to get a roll-off dumpster
Dumpsters are great for spring cleaning, getting rid of yard waste, cleaning out a house before moving out, and getting rid of construction waste. Also, since they come in sizes ranging from 10 cubic yards to 40 cubic yards, it's easy to choose one that fits your needs for getting rid of trash. So, here are some simple suggestions:
How to Rent an Open Top Container
It's a good idea to call a company in your city that takes care of trash disposal and ask for a quote on renting a dumpster. The quote should include things like rental prices for different sizes of roll-off bins. After you get the quote, choose a dumpster that fits your budget and can hold all the trash you need to get rid of.
Customer Reviews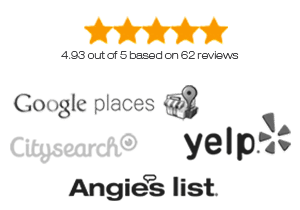 For example, a 40-cubic-yard trash can can hold most of the trash from building a house without any trouble. Then, pay what you need to and set up a day to drop it off at the place you want. Don't forget that you may need a permit from the Hyattsville city office if you want to put a trash can in the street. When the roll-off bin is full, call the company that rented it to come pick it up.
Costs for renting
The cost of renting a roll-off container will depend on where you live, how you want to get rid of your trash, how much trash you have, how long you need it, and how much it costs to get rid of trash in Hyattsville. Also, if you want to keep the rental longer, you might have to pay an extra fee. Most of the time, fees to extend a rental range from $3 to $10 per day. If you book a dumpster and put more trash in it than the maximum allowed, you may have to pay an extra fee that is usually between $30 and $100 per extra ton.
Things You Can't Throw Away
There are some things you can't throw away in trash cans you rent. Some of the things that are not allowed are paint, batteries, gas canisters, computers, car parts, greasy food waste, and refrigerators.
Some businesses charge extra for mattresses that are put in their trash cans. It is also against the law to put poisonous or dangerous substances in a container that wasn't made for them. Asbestos, paint thinner, and used oil filters are all examples of these kinds of things. If you need to get rid of dangerous waste, choose a unit that is approved for these kinds of materials. If you're not sure how to get rid of hazardous waste, you can ask the Hyattsville city office in charge of environmental protection for help and advice. And lastly, don't put too much trash in your roll-off can.
How big of a dumpster should you rent?
It shouldn't be hard to figure out what size dumpster you need for your project. You want a roll-off container that is big enough to hold all of the trash from your project but not so big that you end up paying for a container that is only partially full.
The most common sizes of roll-off containers for rent on the market are 10, 20, 30, or 40 yards. When you decide on a certain size of canister, it's usually a good idea to talk to someone who knows how to figure out what size will work best. Here are some examples of what each size is good for:
10-yards is great for small projects like remodeling a bathroom or kitchen or cleaning out a basement or garage.
20 yards is enough to get rid of a deck, a single layer of roof shingles, or some flooring.
30-yards is the right amount for building a new house or doing big home improvement projects.
40 yards is the best size for projects like replacing windows or siding, building a big house, or tearing down an old building.
Even though the above are just suggestions, you should talk to a professional to get a much more accurate estimate.
How Hyattsville's prices for your container are set Most of the time,
Companies that rent dumpsters will bring empty bins to where you want them, and once you've filled them with trash, they'll take them to a dump or recycling center. The cost of renting a roll-off container depends on a number of things, such as the size of the container needed, the weight of the trash, the location of the landfill, and the cost of transportation.
Customer Reviews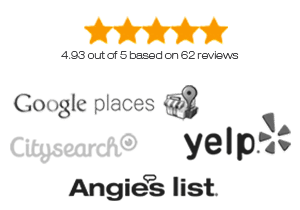 The main things that go into figuring out how much a dumpster costs in Hyattsville are:
Places to drop off and throw away
Throw away the amount and weight
Prices related to transportation
Rental duration
Kind of trash
The type of trash affects the price because waste management companies in Maryland have to send the right-sized bin and find a good place to dump it. When compared to non-decomposable, non-recyclable, and dangerous materials, landfills and recycling plants charge less for things that break down and can be reused. Your cost is directly affected by these things.
Prices related to transportation
The cost of a rental includes things like gas and the cost of the driver. Transportation costs go up because more fuel is used, mostly because people have to drive farther to drop off trash and take it to landfills and recycling transfer stations. The price of trash cans is also affected by the price of fuel, since higher fuel prices automatically mean higher gas costs.
The amount and weight of trash
The size of the roll-off dumpster depends on how much trash there is, while the equipment used by the hauler depends on how much trash there is. Big containers and complicated tools cost a lot more than small containers and simple tools. You might want to guess the size and weight of the trash on the job site so that you can order a container that is the right size.